::Introduction::
My husband and I would like to welcome to you our site... As early as I can recall, my love for this wonderful breed began as a young child. Mother "introduced" me to the Siamese shortly after arriving home from the hospital, when she decided to place three of her queens into my bassinet. Later in life, Mom went on to explain how she grabbed her camera and took pictures of me with her three breeding queens nestled into my bassinet. This has always been a treasured story growing up as a child. The Siamese cat has always been part of my life until I left to join the military and marry. After leaving the military, I came home and was devastated to learn that Mother's health had deteriorated and was no longer able to breed. Needless to say, I was determined to continue breeding. the Siamese. Unfortunately for me, my mother petted out most of her breeding cats, which left me the job of finding new bloodlines. Thankfully at the time, I was able to locate a Siamese breeder who sold me my very first foundational breeding cats, "Sam and Simonette."
:: About Our Cattery::
Because our cattery is home based, we have no special "facilities" for our cats. Visiting our cattery is visiting our home. Our females and males live with us as a part of the household. Our kittens are born in our bedroom and are under a constant supervision. They are handled and well socialized from birth through to the time they leave. You are welcome to visit us and meet our cats and kittens, however, we have certain criterias that we go by.
~ Only families that have placed a deposit are allowed visits.
~ Visits are allowed only after kittens have received their first vaccination (8 wks)
~ Only the kitten you have expressed interest in adopting, will be visited.
~ If children are brought, we respectfully ask that they be watched and well behaved.
~Buyers will be notified if there are any available remaining kittens, please phone to make an appointment to visit
We ask, for the safety of the kitten and our Cattery, that on the day of your scheduled visit, you not have any other previous appointments with other Catteries, or Shelters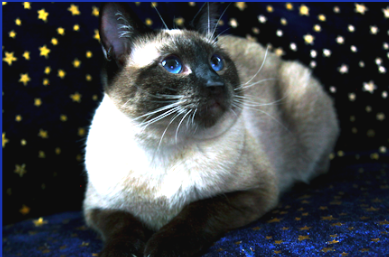 ::Welcome::
Siam Moon is a small home based cattery located in a nice suburb of Arizona. Our cats are our beloved pets and members of our family. We raise only few quality litters a year, focusing on quality, not quantity. Our queens have no more than two litters a year.
Qualities of our breeding program are based on soundness, health, temerament and balance. We are continuosly searching for old lineages, combing each pedigree looking for pure, sound and healthy lines.
All of our cats have been tested negative for Feline Leukemia Virus (FeLV), Feline Immunodeficiency Virus (FIV) and Heartworm. They are regularly examined by our veterinarian specialist in the region of Casa Grand as their health and well-being of our cats is of the highest priority..
Even though breeding Old Style Siamese cats is not our business but a passionate hobby, we take our responsibilities as breeders very seriously and strive for the most professional ways of doing that..
ACA registered FIV-FeLV negative cattery