ACA registered FIV-FeLV negative cattery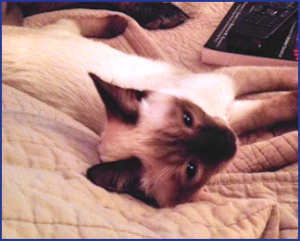 ::Southern Traditional Siamese Mojo of Siam Moon::
~Son of Stormhaven Baku and Southern Traditional Willa Mystic Gold. Mojo is a Seal Pt medium sized Old Style Siamese. He has a sweet affectionate personality who loves and follows his "Mummy" around. Mojo's eyes are best described as an evening night's sky.
::Glasslipper Tsunami of Siam Moon AKA "Simon"::
~Son of Glasslipper Lou Lou Belle and Bay Blues Dark Winged Duck. Simon is a large sized Chocolate Pt Applehead Siamese. He has an affectionate laid back personality.. Like himself, produces large kittens with deep blue sapphire eyes and has a gentle sweet disposition. Mojo carries the long-haried gene and can produce Balinese kittens when bred back to a queen that carries the variant gene.
::Siamese Royalty Skywalker of Siam Moon::
~Son of Siamese Royalty Diamonds Are Forever and Mickey Blue Eyes of Siamese Royalty.. "Walker"is the largest of all the three males I own. He is a Seal Pt Applehead Siamese with a combination of imported lines from South Africa, England and American Bloodlines. He is a fun loving lovebug with deep blue sapphire eyes. Walker likes to get into everything. and thinks he is a dog. Like Mojo, Walker can also produce Balinese kittens when bred back to the right queen.